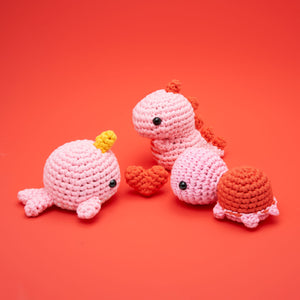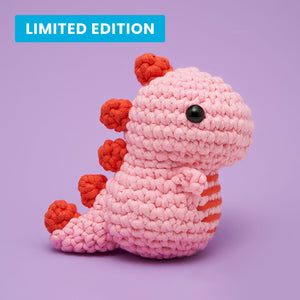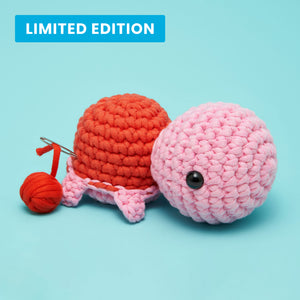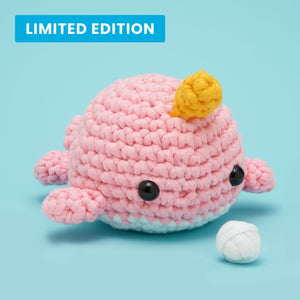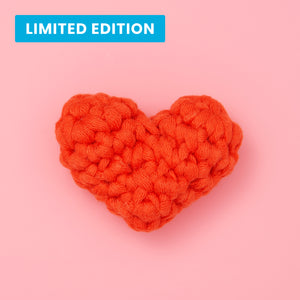 In the mood for love? Then our Pink-credibles Bundle is just the thing! Featuring a tiny heart and rose-colored makeovers for three of our most popular kits, its Valentine vibes are sure to make you swoon.
Fred the Dino's romantic new shade is pure dino-mite, while Bjørn the Narwhal's beautiful blush is flippin' fan-tusk-tic. And of course Emilio the Turtle's turtle-ly terrific tint will get you ready for romance in no time. Add our Easy Peasy yarn and step-by-step tur-torials, and this pink-credible crew couldn't be simpler to bring to life for a true whale of a time this Valentine's Day!

Can I really learn how to crochet from these kits?
You bet - over 250,000 people have learned crochet with The Woobles, and you can be next! Just follow the step-by-step video tutorials that come with each kit. Our beginner kits also come pre-started to get you over the first hump. 
What's included
Skill level
Beginner+, recommended for ages 12+
Righty? Lefty?
We've got you covered. Our pre-started beginner crochet kits work for both righties and lefties, and all Woobles crochet tutorials have both right-handed and left-handed versions.