The 5 Best Ergonomic Crochet Hooks
We get it. You're a newbie crocheter who's starting to get hooked on the smooth and creative hobby. So now you've started to wonder about which tools are best for bringing a bundle of yarn to life – and in particular, what are the best ergonomic crochet hooks to use?
(If you're thinking, "wait, don't you mean crochet needles?", nope! The proper term is crochet hooks, although many beginners usually make the mistake of calling them needles because the equivalent tool for knitting is called a needle. You can tell if you're looking at a crochet hook because of its distinctive head, which for us looks like a cute penguin bowing its head. Awww!)
But back to the question of best ergonomic crochet hooks. It's a question The Woobles came across all the way back when we first picked up a crochet hook and began stitching our first family of amigurumi.
Why use ergonomic crochet hooks?
Every bundle of yarn needs a sturdy hook. But these handy instruments are not all the same, which is why you'll hear some crocheters prefer one type of hook while others prefer another. So as we dive into some of the best ergonomic crochet hooks out there, keep in mind that what's best for you may be different from what's best for someone else.
Fitted with a soft and padded handle, ergonomic hooks are designed for comfort, safety, and ease of use. Not only are they extremely useful for crocheters who want to crochet for hours, but are also an excellent option for those with chronic pain or discomfort, such as arthritis and tendonitis.
So let's take a look at specific ergonomic crochet hooks, along with some of their specific benefits.
Clover Amour Crochet Hooks
Ah, Clover. A needle and handicraft company with a long and rich history. It's actually been around for a while, since the late '40s in fact, and has become a classic brand in the handicraft industry. Their Amour Crochet Hook is, likewise, one of the best ergonomic crochet hooks, and a classic choice among crocheters, which features a nice and easy padded grip that caresses the hand.
Comfortable to hold, the Clover Amour Crochet Hook comes in different sizes to tailor to your stitching needs. Each size hook is color-coded so that there's no need to squint your eyes to check the size of each hook.
Head over to Amazon to get your Clover Amour Crochet Hook set.
Tulip Etimo Rose Crochet Hooks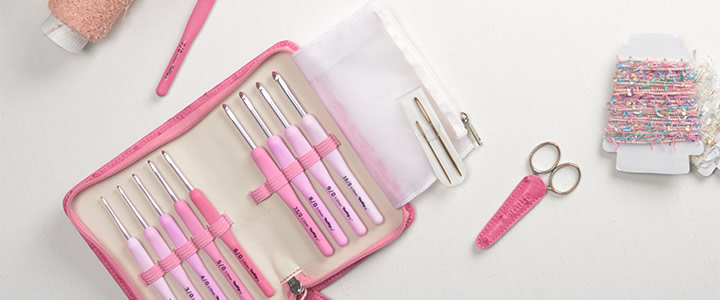 If pink is your color then the Tulip Etimo Rose Crochet Hook is likely to catch your eye – with each shade representing a different size. Tulip hooks are also known for their quality: their padded handles provide comfort and are designed to reduce wrist motion, and thus cramping.
Its specific design means that the handle cushion is firmer than other ergonomic crochet handles, and they're slightly more expensive than other brands. Yet if you do suffer from wrist cramps, or are prone to wrist discomfort, it may be worth the higher price.
You can find a variety of Tulip Etimo Rose Crochet Hooks on Amazon.
Athena's Elements Crochet Hooks
One of the cheapest ergonomic crochet hooks on the market, the Athena's Elements Crochet Hook is very lightweight with a soft and comfortable grip. 
Only founded in 2015, the Athena's Elements Crochet Hook is the youngest on the list but has already shown its value to the crochet community, being one of the most common ergonomic crochet hooks on the market.
Boye Ergonomic Crochet Hooks
The oldest brand on the list, Boye has been in the crochet game for over a century, setting up shop in 1917. Its soft rubber handle is thick and comfortable, designed specifically for those who suffer from arthritis or carpal tunnel. That's because the thicker-sized handle means you don't need to close your hand as much, so it's not as tight.
But despite its better grip, the head shape actually means you need to rotate your wrist a bit more to complete a stitch. And because the head of the hook is more rounded than others, you'll need to work a bit harder to get the hook through a stitch. So choosing the Boye Ergonomic Hook greatly depends on if you already have wrist discomfort, and are willing to power through tight stitches.
If you're inclined to use Boye Ergonomic Hooks, head to Amazon.
Addi Swing Crochet Hooks
If you lined up all the crochet hooks out there, your eyes would likely gravitate towards the Addi Swing. Why? Because of its unique, curvy shape designed for more comfort and less strain on the hand and wrist.
The Addi Swing is also lightweight, with a handle built from two types of plastic: a white and firm section, and a colorful and soft section for a more comfortable grip. The shaft of the Addi Swing hook is also a bit shorter than other hooks on the list. 
"Why is the length important?" you may be wondering. Well, when crocheting, you bring loops down the shaft of the hook to make evenly-sized stitches. One way to know when the loop has traveled down far enough is when you feel the yarn being stopped by the handle. And so a short shaft – like the Addi Swing – means a shorter distance for the loop to go, which in turn means less hand movement and less fatigue.
The Addi Swing crochet hook set - plus a handy dandy carrying case for them - is available on Amazon.
What is the most used crochet hook size for beginners?
Some questions are too nuanced for a simple answer. Such as this one! It really depends on your crocheting endeavor. But if you're itching to get started on an amigurumi, 4mm ergonomic crochet hooks are ideal for beginners – that's why we sell them with our cute Pierre the Penguin Crochet Kit and Jojo the Bunny Crochet Kit.
For more advanced amigurumi projects, thinner yarn and therefore smaller hooks, let you make more complex shapes – which is why we use 2mm ergonomic crochet hooks in our Klaus the Crocodile Crochet Kit and Poppi the Hippo Crochet Kit.
But back to beginners: the hook size you choose actually all depends on the yarn. So the real question is: what size yarn is best for beginners? When it comes to amigurumi, you want to use a yarn that's fine enough to create your own adorable amigurumi creatures, but not so fine that you have a hard time seeing stitches.
And because amigurumi are by nature bright and colorful creatures, you want to use a type of yarn that's bold enough to suit this task. There are two types fit for the job: acrylic and cotton. Both are great for amigurumi because they keep their shape well. 
There's a type of cotton called mercerized cotton yarn. It's the go-to type for amigurumi masters since it comes in a range of vibrant colors. Then there's medium-weight acrylic yarn, which is a bit thicker but still comes in a good variety of colors. It's more flexible than cotton, which means that acrylic is easier to work with as you get used to the motions of the craft. 
Not only is acrylic easier to crochet with, but it's also more widely available than cotton. It can be easily found in some of the biggest and best craft stores, such as JOANN and Michaels. Because it's widely available, it's a great gateway into the crocheting community.
These are precisely the reasons that The Woobles uses medium-weight acrylic yarn in our kits: to make crocheting as widely accessible and available as possible. Our kits come with 4mm ergonomic crochet hooks to match the most commonly-sized acrylic yarn out there. So if beginners want to continue with their crochet journey after completing a kit (like our adorable Kiki the Chick Crochet Kit or Felix the Fox Crochet Kit) they can easily move onto new projects, armed with their chief assistant – the 4mm crochet hook. Medium-weight acrylic yarn and a 4mm crochet hook – the ideal partners in "twine".
Stitching up loose ends
As we've seen, the best ergonomic crochet hooks vary in shape, thickness, and weight. But they all have in common a specific design to maximize comfort through a soft and padded handle.
Whether it's the curvy Addi Swing, the thicker Boye Ergonomic Hook, the more affordable Athena's Elements, the pink-infused Tulip Etimo Rose Crochet Hook, or the classic Clover Amour Crochet Hook, you'll be in good hands to get crocheting in comfort – or should I say these ergonomic crochet hooks will be in good hands?