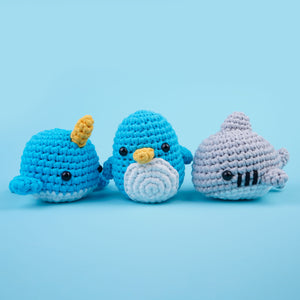 Make some waves in your daily routine by joining the wonderfully watery world of Pierre the Penguin, Bjørn the Narwhal, and Tank the Shark! We're sea-riously thrilled that two of our bestselling buddies are teaming up with a jaw-some new chum to form this aquatic alliance.
For things to flow as swimmingly as possible, we'd recommend plunging right in with Pierre, then boosting your skills with Bjørn, before fin-ally tackling Tank. Oh, and one more thing—don't wait too long, because as a limited edition, this splash-tacular bundle will be drifting away before you know it!
Can I really learn how to crochet from these kits?
You bet - over 250,000 people have learned crochet with The Woobles, and you can be next! Just follow the step-by-step video tutorials that come with each kit. Our beginner kits also come pre-started to get you over the first hump. 
What's included

Skill level
Beginner, Beginner+, recommended for ages 12+