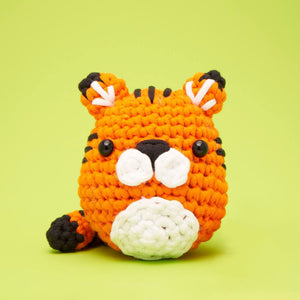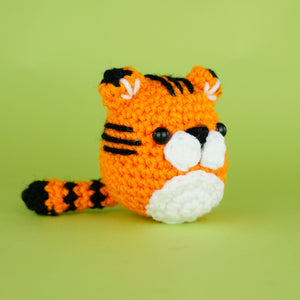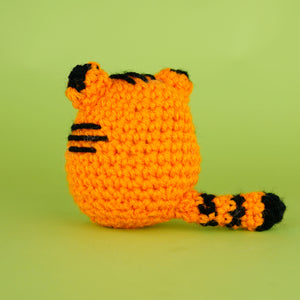 Meet Tanya the Tiger
Happy Lunar New Year from Tanya the Tiger! If you're a big cat person—or even if you're not—she's sure to be a claw-some companion for ringing in twelve grrrrreat new months.
While those cute stripes and color-changing tail make her kit a Beginner+, our stripe-ndous video tutorial will guide you smoothly through each tiger-ific step. So get pumped for a roaring good time, as you'll soon be looking into the eye of this tiger and toasting to a yarn-tastic new year!

Can I really learn how to crochet from these kits?
You bet - over 250,000 people have learned crochet with The Woobles, and you can be next! Just follow the step-by-step video tutorials that come with each learn-to-crochet kit. Our beginner kits also come pre-started to get you over the first hump. 
What's included

Step-by-step video tutorials

The Woobles Easy Peasy yarn, custom-made for beginners
Pre-started for you, so you can get right into practicing the main crochet stitch
Unlimited help over e-mail, plus virtual crochet office hours
Plastic eyes
Stuffing
Tapestry needle
Stitch markers
Tiger crochet pattern as a PDF download
4mm ergonomic crochet hook

 (for an additional charge)
Skill level
Beginner+, recommended for ages 12+
Righty? Lefty?
We've got you covered. Our pre-started beginner crochet kits work for both righties and lefties, and all Woobles crochet tutorials have both right-handed and left-handed versions.
Size
About 4 in (10.2 cm) tall. As a handmade item, exact size depends on the crocheter.