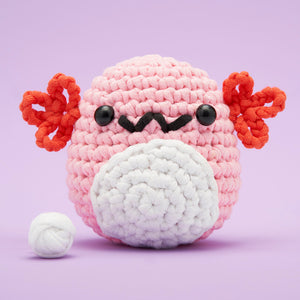 Meet Strawberry the Axolotl
When you first meet Strawberry, you may want to ask-a-lot-l questions. But though this adorable axolotl is the most exotic of our Woobles, her beginner-level kit is anything but. Not only will you master some of crochet's most common techniques, but you'll also learn the chain stitch and slip stitch for those gorgeous gills. You'll have to act fast to bring this sweet little salamander home.
Can I really learn how to crochet from these kits?
You bet - over 250,000 people have learned crochet with The Woobles, and you can be next! Just follow the step-by-step video tutorials that come with each learn-to-crochet kit. Our beginner kits also come pre-started to get you over the first hump. 
What's included
Step-by-step video tutorials
Pre-started for you, so you can get right into practicing the main crochet stitch
The Woobles Easy Peasy yarn, custom-made for beginners
Unlimited help over e-mail, plus virtual crochet office hours
Plastic eyes
Stuffing
Tapestry needle
Stitch marker

Axolotl crochet pattern as a PDF download
4mm ergonomic crochet hook (for an additional charge)
Skill level
Beginner, recommended for ages 12+

Righty? Lefty?
We've got you covered. Our pre-started beginner crochet kits work for both righties and lefties, and all Woobles crochet tutorials have both right-handed and left-handed versions.
Size
About 4 in (10.2 cm) tall. As a handmade item, exact size depends on the crocheter.