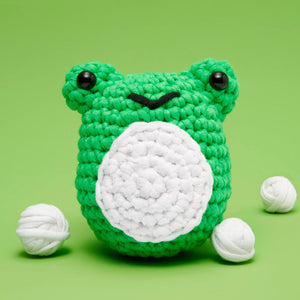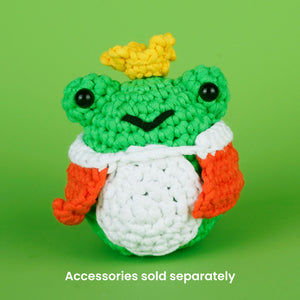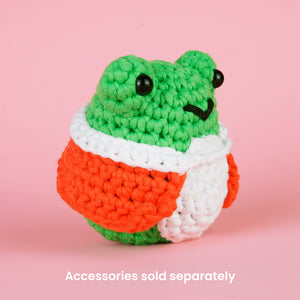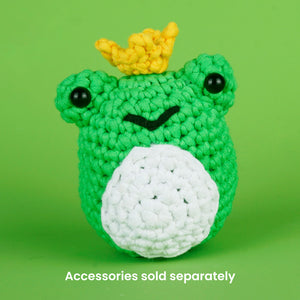 Meet Henri the Frog
If you could use a little more charm in your life—and really, who couldn't?—please allow us to introduce Henri the Frog! Though some say it's not easy being green, you'd never guess it from Henri's sweet smile and princely demeanor. In fact, one look, and you'll see how very hoppy he is to meet you!
With our Easy Peasy yarn and step-by-step instructions, even toad-al beginners will be able to jump right into this frog-tastic kit. And if you really want to give him the royal treatment, just add a regal cloak and golden crown, and get ready for a hoppin' good time!
Can I really learn how to crochet from these kits?
You bet - over 250,000 people have learned crochet with The Woobles, and you can be next! Just follow the step-by-step video tutorials that come with each kit. Our beginner kits also come pre-started to get you over the first hump. 
What's included

Step-by-step video tutorials

The Woobles Easy Peasy yarn, custom-made for beginners
Pre-started crochet piece, so you can get right into practicing the main crochet stitch
Unlimited help over e-mail, plus virtual crochet office hours
Plastic eyes
Stuffing
Tapestry needle
Stitch marker
Pattern
4mm ergonomic crochet hook

 (for an additional charge)
Skill level
Beginner+, recommended for ages 12+
Righty? Lefty?
We've got you covered. Our pre-started beginner crochet kits work for both righties and lefties, and all Woobles crochet tutorials have both right-handed and left-handed versions.
Size
About 3.5 in (8.9 cm) tall. As a handmade item, exact size depends on the crocheter.