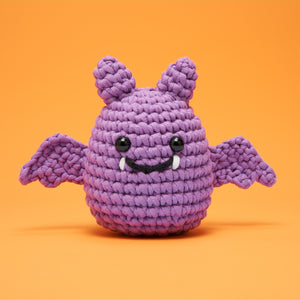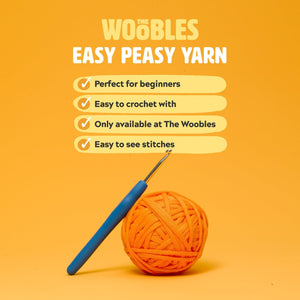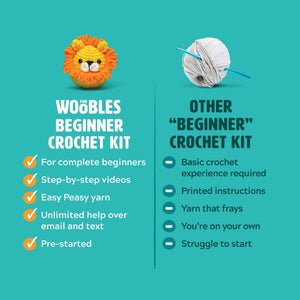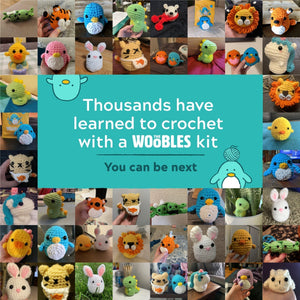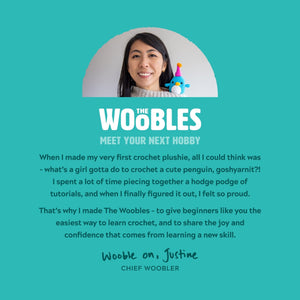 Meet Luna the Bat
We're just batty about our fang-tastic new friend, Luna the Bat! Though she'd rather be soaring through the moonlight than starring in the limelight, she's as friendly as can be, with a gentle demeanor and wing-credible sense of humor. Plus with her purple hue, adorable wings, and tiny fangs, she doesn't even need a costume to look absolutely spec-bat-ular.

Not only is this Beginner kit perfect for newbies, but it's made even bat-ter by our Easy Peasy yarn and step-by-step videos. So if you're crazy a-bat Halloween or just need a sonar-velous new Wooble in your life, Luna's definitely your girl!

Can I really learn how to crochet from these kits?
You bet - over 250,000 people have learned crochet with The Woobles, and you can be next! Just follow the step-by-step video tutorials that come with each learn-to-crochet kit. Our beginner kits also come pre-started to get you over the first hump. 
What's included

Step-by-step video tutorials

The Woobles Easy Peasy yarn, custom-made for beginners
Pre-started for you, so you can get right into practicing the main crochet stitch
Unlimited help over e-mail, plus virtual crochet office hours
Plastic eyes
Stuffing
Tapestry needle
Stitch marker
Bat crochet pattern as a PDF download

Custom 4mm ergonomic crochet hook (for an additional charge)
Skill level
Beginner+, recommended for ages 12+
Righty? Lefty?
We've got you covered. Our pre-started beginner crochet kits work for both righties and lefties, and all Woobles crochet tutorials have both right-handed and left-handed versions.
Size
About 4 in (10.2 cm) tall. As a handmade item, exact size depends on the crocheter.