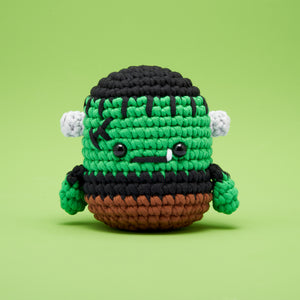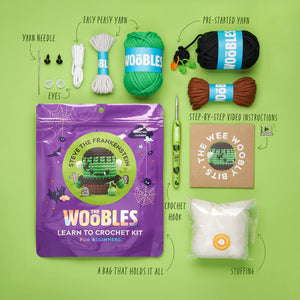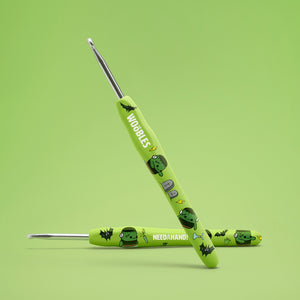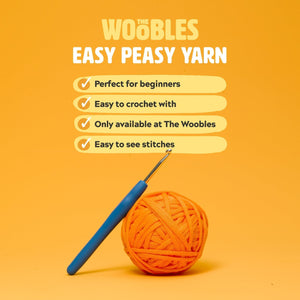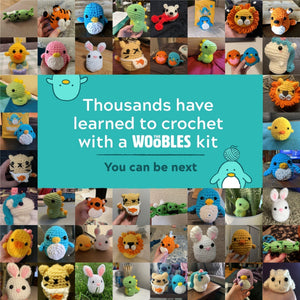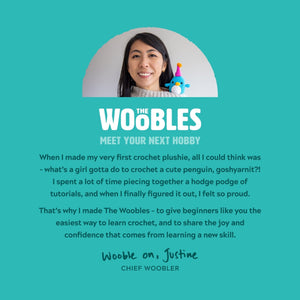 Meet Steve the Frankenstein
If you're looking to party it up at this year's Monster Bash, be sure to check out Steve the Frankenstein! All those green-credible details will make you sit bolt upright, and his unbe-Steve-able dad jokes are guaranteed to have you in stitches.

Despite some color switching and new techniques, this remains a Beginner kit, making Steve a Frank-tastic choice even for newbies. And with the help of our Easy Peasy yarn and step-by-step videos, you'll be bringing this monster-ific mate to life in no time. Frank-ly, you'd have to have a screw loose not to scoop him up…so what are you waiting for? Grab this kit fright now, and let's get started!

Can I really learn how to crochet from these kits?
You bet - over 250,000 people have learned crochet with The Woobles, and you can be next! Just follow the step-by-step video tutorials that come with each learn-to-crochet kit. Our beginner kits also come pre-started to get you over the first hump. 
What's included

Step-by-step video tutorials

The Woobles Easy Peasy yarn, custom-made for beginners
Pre-started for you, so you can get right into practicing the main crochet stitch
Unlimited help over e-mail, plus virtual crochet office hours
Plastic eyes
Stuffing
Tapestry needle
Stitch marker
Frankenstein crochet pattern as a PDF download

Custom 4mm ergonomic crochet hook (for an additional charge)
Skill level
Beginner +, recommended for ages 12+
Righty? Lefty?
We've got you covered. Our pre-started beginner crochet kits work for both righties and lefties, and all Woobles crochet tutorials have both right-handed and left-handed versions.
Size
About 4 in (10.2 cm) tall. As a handmade item, exact size depends on the crocheter.