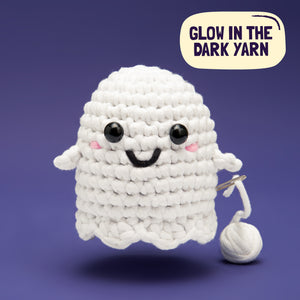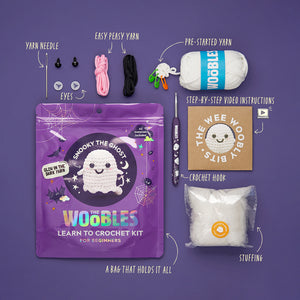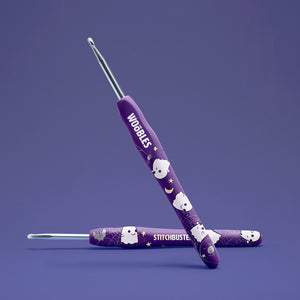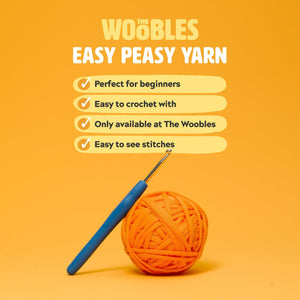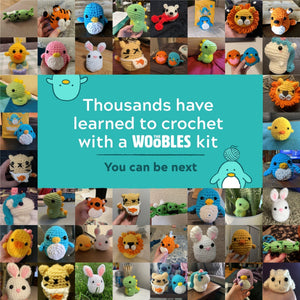 Get ready for the ultimate glow-up! Let Snooky the Ghost soak up some light for a few minutes, and watch it light up the night.
Meet Snooky the Ghost
With the spooky season upon us, Snooky the Ghost is sure to be a specter-cular addition to any Woobler's crew. More fun than frightening, this adorable apparition will help you scare up some true Halloween spirit in no time!

Even with those rosy cheeks and wavy base, Snooky is a Beginner kit—which means it's haunt-astic for newbies, especially with the help of our Easy Peasy yarn and step-by-step videos. Plus if you do end up running into any snags, we promise not to ghost you, so don't hesitate to reach out. Most of all, don't forget to have a frightfully fabulous time as you bring this boo-tiful new bud to life!

Can I really learn how to crochet from these kits?
You bet - over 250,000 people have learned crochet with The Woobles, and you can be next! Just follow the step-by-step video tutorials that come with each learn-to-crochet kit. Our beginner kits also come pre-started to get you over the first hump. 
What's included

Step-by-step video tutorials

The Woobles Glow-in-the-Dark Easy Peasy yarn, custom-made for beginners
Pre-started for you, so you can get right into practicing the main crochet stitch
Unlimited help over e-mail, plus virtual crochet office hours
Plastic eyes
Stuffing
Tapestry needle
Stitch marker
Ghost crochet pattern as a PDF download

Custom 4mm ergonomic crochet hook (for an additional charge)
Skill level
Beginner, recommended for ages 12+
Righty? Lefty?
We've got you covered. Our pre-started beginner crochet kits work for both righties and lefties, and all Woobles crochet tutorials have both right-handed and left-handed versions.
Size
About 4 in (10.2 cm) tall. As a handmade item, exact size depends on the crocheter.