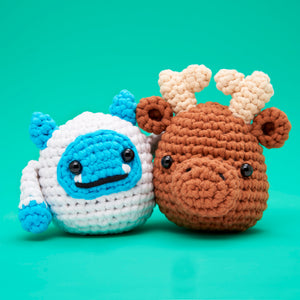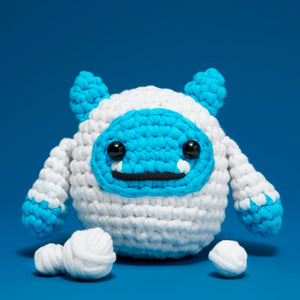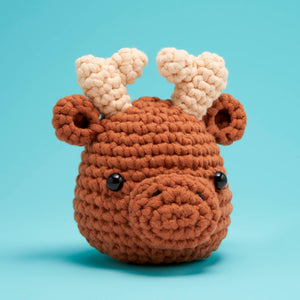 With November drawing to a close, it's time to get yeti for all our favorite December festivities! So light the candles and hang that moose-tle-toe, because we can't wait to welcome this wonderfully wintry pair to the party.
We'd recommend starting with Roosevelt the Moose before moving on to the color-changing challenge of Howard the Yeti. But don't worry—with our Easy Peasy yarn and step-by-step videos, you'll have snow problem bringing these frosty friends to life.
Since we're always here to help fix any moose-takes and antler all your questions, there's really no reason to wait. Let's get yeti and do this!
Can I really learn how to crochet from these kits?
You bet - over 250,000 people have learned crochet with The Woobles, and you can be next! Just follow the step-by-step video tutorials that come with each kit. Our beginner kits also come pre-started to get you over the first hump. 
What's included
1 Howard the Yeti Beginner Kit with crochet hook
1 Roosevelt the Moose Beginner Kit with crochet hook
Skill level
Beginner, recommended for ages 12+
Righty? Lefty?
We've got you covered. Our pre-started beginner crochet kits work for both righties and lefties, and all Woobles crochet tutorials have both right-handed and left-handed versions.
Size
About 4.5 in (11.4 cm) tall. As a handmade item, exact size depends on the crocheter.