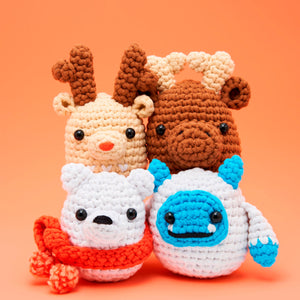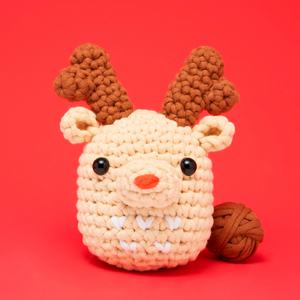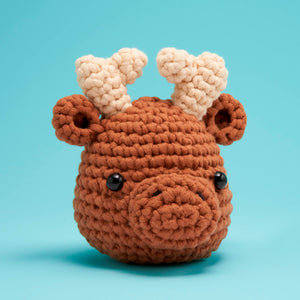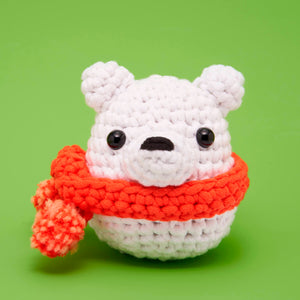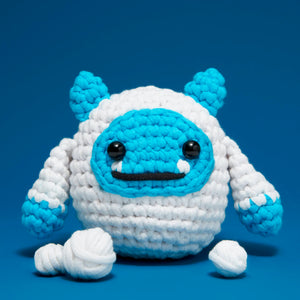 If you're feeling Santa-mental about the holidays, then yule be sure to love our Winter Wonderland bundle! It brings together four fantastic friends for a frosty fiesta, though their warm and woobly personalities mean we can skip right past the ice breakers.
We promise there's ab-snow-lutely no need for cold feet—just grab some of our Easy Peasy yarn and get yeti to bring Lola Loca the Polar Bear, Ralph the Reindeer, Howard the Yeti, and Roosevelt the Moose ho-ho-home with you for the holidays!
🎁 Get these Woobles dancin' merrily with accessories from our Snow Much Fun Accessory Bundle!
Can I really learn how to crochet from these kits?
You bet - over 250,000 people have learned crochet with The Woobles, and you can be next! Just follow the step-by-step video tutorials that come with each kit. Our beginner kits also come pre-started to get you over the first hump. 
What's included

1 Ralph the Reindeer Beginner Kit with crochet hook
1 Lola Loca the Polar Bear Beginner Kit with crochet hook
1 Howard the Yeti Beginner Kit with crochet hook
1 Roosevelt the Moose Beginner Kit with crochet hook
Skill level
Beginner, recommended for ages 12+
Righty? Lefty?
We've got you covered. Our pre-started beginner crochet kits work for both righties and lefties, and all Woobles crochet tutorials have both right-handed and left-handed versions.
Size
About 4.5 in (11.4 cm) tall. As a handmade item, exact size depends on the crocheter.