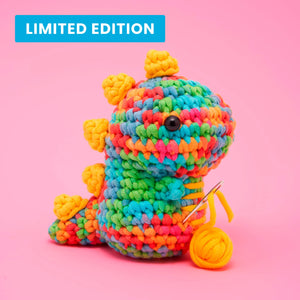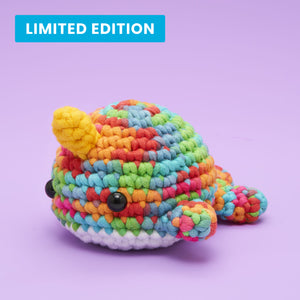 Looking to get your groove on? Then look no further. This funkadelic trio's rainbow threads, fierce moves, and seventies swagger will have you lighting up the disco ball in no time.
We'd recommend easing into the dino-mite moves of Disco Fred the Dinosaur, then gettin' down with Boogie Bjorn the Narwhal, before stayin' alive with Rainbow Billy the Unicorn. With our Easy Peasy yarn and step-by-step videos, you'll have no problem hustlin' your way through all those Beginner+ details like magic loops and chains. So funk it up, boogie down, and let these retro rainbow revelers electric-slide their way right into your heart.

Can I really learn how to crochet from these kits?
You bet - over 250,000 people have learned crochet with The Woobles, and you can be next! Just follow the step-by-step video tutorials that come with each kit. Our beginner kits also come pre-started to get you over the first hump. 
What's included

Skill level
Beginner+, recommended for ages 12+
Righty? Lefty?
We've got you covered. Our pre-started beginner crochet kits work for both righties and lefties, and all Woobles crochet tutorials have both right-handed and left-handed versions.
Size
About 4 in (10.2 cm) tall. As a handmade item, exact size depends on the crocheter.