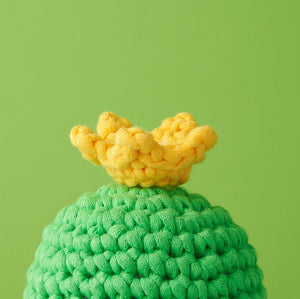 Elevate your favorite Wooble to royalty with this itty bitty teensy weensy little yellow crown. Pair it with the Tiny Royal Cloak Kit to complete the look.

If this is your first time crocheting, get a beginner learn-to-crochet kit instead. Accessory kits are not designed to teach you how to crochet.
What's included

Step-by-step video tutorials

The Woobles Easy Peasy yarn, custom-made for beginners

Crown crochet pattern as a PDF download
You'll also need a 4mm crochet hook, which comes with any beginner learn-to-crochet kit.