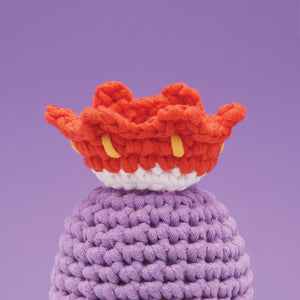 For any Wooble ready for the royal treatment, this cute little queen (or king) crown is just the thing. 'Cause while it's meant for Cornelius the Bee, it can also perch atop any Wooble craving some new bling.
So grab some Easy Peasy yarn and follow our step-by-step videos to learn some Beginner+ skills like color changing and the half double crochet increase, as well as how to start something with a chain and turn it into something round. Once you're done, we think you'll agree that this crowning achievement of accessories is absolutely fabulous. Yas queen!
If this is your first time crocheting, get a beginner learn-to-crochet kit instead. Accessory kits are not designed to teach you how to crochet.
What's included

Step-by-step video tutorials
The Woobles Easy Peasy yarn, custom-made for beginners
Pattern as a PDF download
You'll also need a 4mm crochet hook, which comes with any beginner learn-to-crochet kit.
queen
Queen for a day--- so cute!
queen
Queen for a day--- so cute!