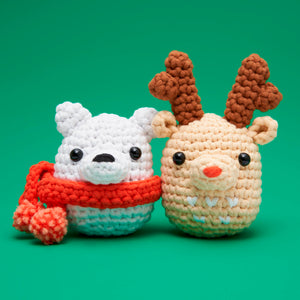 If you're feeling Santa-mental about the holidays, then yule love Ralph the Reindeer and Lola-Loca the Polar Bear. They're sure to light up your day with that deer little nose and beary merry scarf. And since they're both beginner-level, you'll have absolutely snow problem learning how to make flat things as well as round things!
P.S. If you think that Lola-Loca would look right at home in a certain soda's festive commercials, we couldn't agree more. In fact, we herd that she's looking for a beverage company sponsorship, so fingers crossed for her happily ever antler!
Can I really learn how to crochet from these kits?
You bet - over 250,000 people have learned crochet with The Woobles, and you can be next! Just follow the step-by-step video tutorials that come with each kit. Our beginner kits also come pre-started to get you over the first hump. 
What's included

1 Lola Loca the Polar Bear Beginner Kit with crochet hook
1

 Ralph the Reindeer Beginner Kit 

with crochet hook
Skill level
Beginner+, recommended for ages 12+