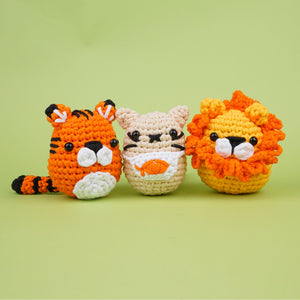 Want cats—but without the litter box? Then take home the purr-fect trio: Nico the Cat, Tanya the Tiger, and Sebastian the Lion!
We'd be lion if we said this bundle isn't for those feline ambitious. Because with these Beginner+ kits, you'll pick up lots of mew techniques like changing colors and making flat things. But our video tutorials and Easy Peasy yarn will make it a breeze to avoid any cat-astrophes. So whether you make this claw-some threesome by yourself or with a fellow feline fanatic, you'll soon be sharing all the paw-sitive vibes with your furry new friends.
Can I really learn how to crochet from these kits?
You bet - over 250,000 people have learned crochet with The Woobles, and you can be next! Just follow the step-by-step video tutorials that come with each kit. Our beginner kits also come pre-started to get you over the first hump. 
What's included
Skill level
Beginner+, recommended for ages 12+
Size
About 4 in (10.2 cm) tall. As a handmade item, exact size depends on the crocheter.